Student Essays On How The World Works
Click here to watch a video lecture of this essay.
As a former university professor, I read thousands of student-authored essays through the years—sometimes joyously, but probably just as often, painfully. Occasionally, the process of researching and writing exerted significant influence over a student's future interests, thinking, and perhaps even behavior. But of all the student essays ever written anywhere, I doubt that any had as profound an effect on its author and the world as one penned 220 years ago at Cambridge.
Throughout Britain the annual Latin essay contest at Cambridge was known and the honor of winning it coveted. The topic for the 1785 competition was prompted by a horrific human tragedy a few years before: Near the end of a long voyage from Britain to Africa to the West Indies, the captain of the British slave ship Zong had ordered his crew to throw 133 chained black Africans overboard to their deaths. He reckoned that by falsely claiming the ship had run out of fresh water, he could collect more for the "cargo" from the ship's insurer than he could fetch at a slave auction in Jamaica.
No one in the Zong affair was prosecuted for murder. A London court ruled the matter a mere civil dispute between an insurance firm and a client. As for the Africans, the judge declared their drowning was "just as if horses were killed," which, as horrendous as that sounds today, was not a view far removed from the conventional wisdom that prevailed worldwide in 1785. Slavery, after all, was an ancient institution. Even to this day, people who have walked this earth in bondage far outnumber those who have enjoyed even a modest measure of liberty.
Moved by the fate of the Zong's victims and the indifference of the court, the university vice-chancellor in charge of selecting the topic for the 1785 contest at Cambridge chose this question: "Anne liceat invitos in servitutem dare?—Is it lawful to make slaves of others against their will?"
Enter a man who, with a handful of compatriots armed only with the printed and spoken word, would clutch the public by the neck and not let go until it consigned slavery to the moral ash heap of history.
Born in the English town of Wisbech in 1760, Thomas Clarkson was a 25-year-old Cambridge student who hoped to be a minister when he decided to try his luck in the essay contest. Slavery was not a topic that had previously interested him, but he plunged into his research with the vigor and meticulous care that, with the passion that his findings later sparked, would come to characterize nearly every day of his next 61 years. Drawing from the vivid testimony of those who had seen the unspeakable cruelty of the slave trade firsthand, Clarkson's essay won first prize.
What Clarkson had learned wrenched him to his very core. Shortly after claiming the prize, and while riding horseback along a country road, his conscience gripped him. Slavery, he later wrote, "wholly engrossed" his thoughts. He could not complete the ride without making frequent stops to dismount and walk, tortured by the awful visions of the traffic in human lives. At one point, falling to the ground in anguish, he determined that if what he had written in his essay was indeed true, it could lead to only one conclusion: "it was time some person should see these calamities to their end."
Adam Hochschild, author of a splendid recent book on the history of the campaign to end slavery in the British empire titled Bury the Chains, explains the significance of those few minutes in time: "If there is a single moment at which the antislavery movement became inevitable, it was the day in 1785 when Thomas Clarkson sat down by the side of the road at Wades Mill . . . . For his Bible-conscious colleagues, it held echoes of Saul's conversion on the road to Damascus. For us today, it is a landmark on the long, tortuous path to the modern conception of universal human rights." More than two centuries on, that very spot not far from London is marked by an obelisk.
No man can rightfully lay claim, moral or otherwise, to owning another. That became Clarkson's all-consuming focus. Casting aside his plans for a career as a man of the cloth, he mounted a bully pulpit and risked everything for the single cause of ending the evil of slavery. At first, he sought out and befriended the one group—the Quakers—who had already gone on record on the issue. But the Quakers were few in number and were written off by British society as a fringe element. Clarkson knew that antislavery would have to become a mainstream, fashionable, grassroots, educational effort if it had any hope to succeed.
On May 22, 1787, Clarkson's organizational skills brought together 12 men, including a few of the leading Quakers, at a London print shop to plot the course. This tiny group, which named itself the Committee for the Abolition of the African Slave Trade, was about to take on a firmly established institution in which a great deal of money was made and on which considerable political power depended. The broad public knew little about the details of slavery and what it did know, it had accepted for the most part as perfectly normal since time immemorial.
Point Man in Parliament
William Wilberforce is most often given the lion's share of the credit for ending slavery in the British empire. He was the long-time Parliamentarian who never gave in to overwhelming odds, introducing bill after bill to abolish first the trade in slaves and later, slavery itself. Hero he certainly was, but it was Thomas Clarkson who played an important role in persuading Wilberforce to be the movement's man in Parliament. And it was information Clarkson gathered by crisscrossing 35,000 miles of British countryside on horseback that Wilberforce often used in parliamentary debate. Clarkson was the mobilizer, the energizer, the barn-burner, the fact-finder, and the very conscience of the movement.
He translated his prize-winning essay from Latin into English and supervised its distribution by the tens of thousands. He gave lectures and sermons. He wrote articles and at least one book. He helped British seamen escape from the slave-carrying ships they were pressed against their will to serve on. He filed murder charges in courts to draw attention to the actions of fiendish slave-ship captains. He convinced witnesses to speak. He gathered testimony, rustled up petition signatures by the thousands, and smuggled evidence from under the very noses of his adversaries. His life was threatened many times, and once, surrounded by an angry mob, he nearly lost it. The long hours, the often thankless and seemingly fruitless forays to uncover evidence, the risks and the costs that came in every form, the many low points when it looked like the world was against him—all of that went on and on year after year. None of it ever made so much as a perceptible dent in Thomas Clarkson's drive.
When Britain went to war with France in 1793, Clarkson and his committee saw early progress in winning converts evaporate. The opposition in Parliament argued that abandoning the slave trade would only hand a lucrative business to a mortal enemy. And the public saw winning the war as more important than freeing people of another color from another continent. But Clarkson did not relent. He, Wilberforce, and the committee Clarkson had formed kept spreading the message and looked for the best opportunities to press it forward.
The effort finally paid off. The tide of public opinion swung firmly to the abolitionists. The trade in slaves was outlawed by act of Parliament when it approved one of Wilberforce's bills in 1807. Twenty-six more years of laborious effort by Clarkson, Wilberforce, and others were required before, in 1833, Britain freed all slaves within its realm and became a model for peaceful emancipation everywhere.
Clarkson died at 86, having outlived the other 11 he had called together at the print shop back in 1787. Hochschild tells us that the throngs of mourners "included many Quakers, and the men among them made an almost unprecedented departure from sacred custom" by removing their hats.
Referencing Pope Francis' encyclical Laudato Si' in which he calls on all people to respect the earth and stop exploiting it, we asked students to explain why it is so important to heed the pope's call and to give at least two examples of what they or others are doing to care for the earth. We received 7,261 essays from students competing in two divisions (grades 6–8 and grades 9–12). "We were truly inspired by the thousands of students—and their teachers—from all over the United States who expressed their understanding of the need to personally take to heart the message of Pope Francis to care for our common home," says Maryknoll Sister Mary Ellen Manz, who coordinated the judging. Following are the winning essays.
DIVISION I (Grades 6–8)
First-Place Winner: Grace Smith
Respecting Earth, Through Myself and My Government
Taking care of our common home is an idea that, for our world today, is no longer an issue of tomorrow but an issue of today. It is such an important idea because humans are the reason the environment is in a decline in the first place, so it is our responsibility to fix what we started. Pope Francis thinks that taking care of our common home should be a corporal work of mercy; Mother Teresa wanted us to stop wasting precious environmental goods. So how, exactly, are we supposed to help the environment? If one wants to stop contributing to the bad activities that will lead to earth becoming a gray wasteland, simple steps can be done to do so. I personally try to use less power at school and at home, and I write letters to my state politicians to ask them to vote "yes" on bills in congress that cut environmental strain. Using less energy and urging politicians to make Delaware more eco-friendly are simple ways that I treat the environment better and respect Earth, our common home.
Decreasing the amount of energy that I use and encouraging my friends and family to do the same is a way that I can directly affect the amount of fossil fuels burned for energy.
Wherever we go, my friends and I turn off unused lights and only use the amount of water that is necessary. These are particularly easy ways to help the environment because they take no time out of the day, require little to no effort, and are easy habits to get into and spread to other people.
Whenever citizens feel that an issue their local politicians are voting on pertains to them personally, they can mail a letter to the politicians to ask them to consider their circumstances and why they want the politicians to vote a certain way. An issue that pertains to me personally is conservation of the earth. While singular people who use less energy are contributing to a greener world, if companies continue to pump out dangerous chemicals into the air and water, nothing can be done to stop the environment's decline. So whenever an environmental vote comes up, I mail a letter to my local representatives to remind them that voting to put checks on big manufacturing businesses is one of the most important things for preserving the earth and its resources. Even though I can't vote yet, I can still make a difference in government through my politicians.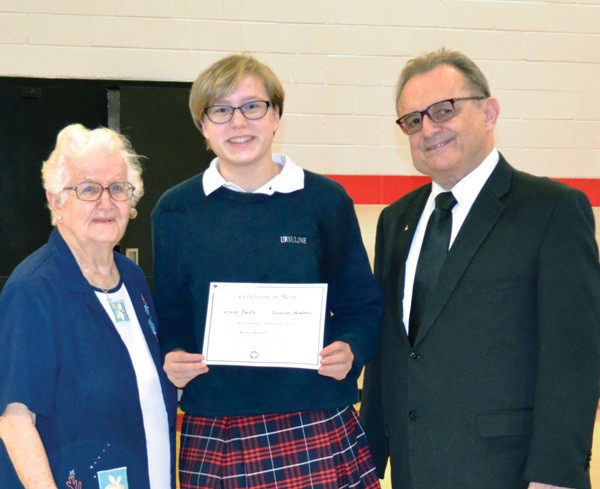 Maryknollers Sister Mary Reese and Brother John Blazo congratulate Grace Smith. (L. Nordmeyer/U.S.)
Everyone who is able must put in an effort to save our earth, before it is too late. With every voice and outlet available, citizens of every country need to work against the earth's deterioration. If we all work together, as a whole world, we can make the earth beautiful, green and safe for all the generations after us. We have to be aware of the life or death situation of pollution and other ecological burdens; we have to be aware that our lives are dependent on the earth's life, and if we destroy the earth, we destroy ourselves. Pope Francis understands this better than any other pope before him. He knows that God wants us to protect the beautiful world he gave us. God wants us to protect our common home, with every way we can.
Grace Smith, an eighth-grader at Ursuline Academy in Wilmington, Del., wins the $1,000 Bishop Francis X. Ford Award, named for the Maryknoll priest who was in the first group of Maryknoll missioners to China and died in a prison there in 1952
DIVISION II (Grades 9–12)
First-Place Winner: Meenu Johnkutty
Saving Our Earth
I am running on the back trails of the small city of Somers, New York, crushing decaying vibrant orange, red and yellow leaves underneath my feet. The streams alongside the trail gurgle as small fish scurry away at the sound of my feet pounding on the dirt. The air is crisp and fresh, and I am in awe of this remarkable splendor, the work of an intelligent Creator. But, the scene changes rapidly as I board the train that will bring me back home. The train cuts through paths made in the woods, where soda cans and cigarette boxes are carelessly strewn on the tracks and the streams are tinted brown with waste and carry plastic bottles instead of live fish. My eyes, which were once overwhelmed by the beauty of a New York autumn, are now saddened at our failed responsibility as a human race to take care of our spinning blue and green planet.
Though many might not realize it, our world is slowly slipping away from our fingers. According to the U.S. Department of Transportation, since the Industrial Revolution, carbon dioxide levels have increased by 30 percent, methane concentrations have doubled, and nitrous oxide levels have gone up 15 percent. When greenhouse gases accumulate in extraordinary levels, the amount of heat trapped in our atmosphere increases as well. This warming of the planet, termed global warming, has disastrous effects, ranging from the melting of polar ice caps to the extinction of many wildlife species. Our responsibility for this global issue, as well as our duty to fix it, is immense. Thus, the need to heed Pope Francis' call to "protect our common home" must not be taken lightly, or we run the risk of losing our planet forever.
Our only solution to this pressing issue is collective global action. Anaerobic digestion (biological processes in which microorganisms break down biodegradable material in the absence of oxygen) is one solution that has been gaining popularity all over the world. Personally, I became passionate about global warming as a freshman in high school when I researched and wrote a winning essay about the benefits of implementing biodigesters in rural communities. During a visit to my parents' village in India, I was shocked to see mounds of trash burning on the sides of the dirt roads. However, if biodigesters were used in these communities, this burning trash could be used to produce biogas. The benefits of biogas are extraordinary, ranging from home heating to developing rural communities. Anaerobic digestion has already coined many successes in China and western European countries. Even in the United States, the students at the University of Wisconsin Oshkosh piloted an anaerobic digestion program that produced enough biogas to power up to 10 percent of the 13,500-student institution! Thus, with the implementation of anaerobic digestion, our landfills, rife with biodegradable material, can be siphoned into biogas production that can power many appliances in the future.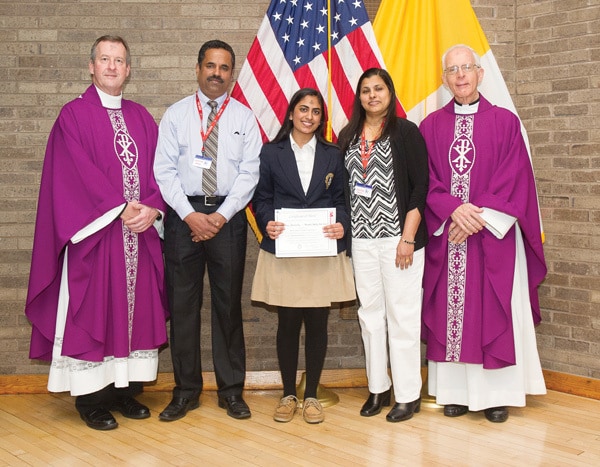 First-place essay contest winner Meenu Johnkutty of Kennedy Catholic High School in Somers, N.Y., is flanked by (l. to r.) principal Father Mark Vaillancourt, dad Johnkutty Geevarghese, mom Sheba and Maryknoll Father Robert Jalbert. (J. Bergmeier/U.S.)
Along with supporting a future run with renewable energy sources like the sun, water and wind, we must also protest projects within the United States that threaten our future as a clean energy superpower. The Dakota Access Pipeline is one such project that threatens this future. This pipeline would transport over 470,000 barrels of crude oil from Canada to the United States, thus delaying the transition from fossil fuels to alternative sources of energy. Protesters have been protesting this pipeline since October 2014. Thus, the time to switch to alternative forms of energy, which will stop our dependence on a finite fossil fuel supply, is now. We must protest and join in the fight against greedy corporations that do not weigh environmental risks as heavily.
As a teenager passionate about global warming and climate change, I want to see a future where my generation and future generations will not have to pay for the damage caused by greed and self-driven interests. What good is a world that has profited from big oil companies when the very world we are standing on will no longer be the planet earth that we know, the mother earth that has held us and nourished us? What will we say to our grandchildren who will look into our eyes and ask, "Why didn't you stop this?" By heeding the pope's call and taking action within our communities, we can and must slow down climate change before it is too late.
Meenu Johnkutty, a 12th-grader at Kennedy Catholic High School in Somers, N.Y., wins the $1,000 Bishop Patrick J. Byrne Award, named for the missioner who died on a forced march in Korea in 1950.
Essays of all 2016 winners will be published on maryknollsociety.org/winners. For future news on the Maryknoll Student Essay Contest, stay tuned to maryknollsociety.org/essay
SECOND-PLACE WINNERS: $300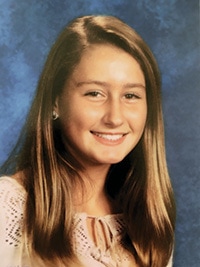 DIVISION I
Ellie Kooney, Grade 8
St. Gerard School
Lansing, Mich.
Ellie shares "simple ways to help protect our earth" that her family uses, including recycling, composting, using LED lighting and driving hybrid cars. "Be kind to our earth," she advises, "because it is an amazing gift and we need to save it before it is all gone."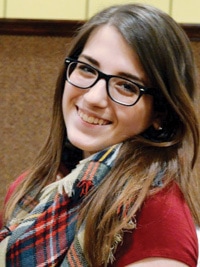 DIVISION II
Katie Hess, Grade 12
Bethlehem Catholic HS
Bethlehem, Pa.
Finding relief from anxiety through nature has led Katie to work to preserve the environment and encourage others to do so. "I would never have imagined there being a useful purpose to my suffering," she writes, "yet here I am, striving to make a difference because of it."
THIRD-PLACE WINNERS: $150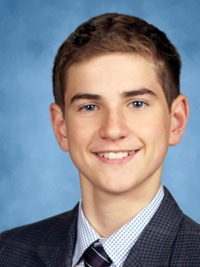 DIVISION I
Tobin Doherty, Grade 8
Our Lady of Good Counsel Catholic School
Vienna, Va.
Pope Francis' encyclical Laudato Si', says Tobin, has shown him he can do something about ecological problems like water pollution. Raising money for clean water in poor African countries is just one action he has taken. "We need to do something now, no matter how small," Tobin says.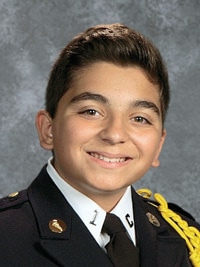 DIVISION II
Joseph D'Agostino, Grade 9
St. Thomas Academy
Mendota Heights, Minn.
Describing a composting project he began, Joseph praises his teacher for inspiring him. "Not only did he provide evidence of how humanity is negatively impacting our climate," Joseph says. "He gave my class the opportunity to do something about it." Joseph hopes to assist his teacher.
Featured Image: On Ash Wednesday, Meenu Johnkutty accepts award from Maryknoll Father Robert Jalbert. (J. Bergmeier)